April`19
choreography:
Zina Vaessen
dance:
Julia Kathriner, Sandra Hanschitz and Finnjo Bau
dramaturgical assistance:
Jana Unmüßig
light:
Natalie Stark
photo:
Dorthea Schubert
staging
: Südufer Freiburg, April, 2019
duration:
40 minutes
funded by:
Kulturamt Freiburg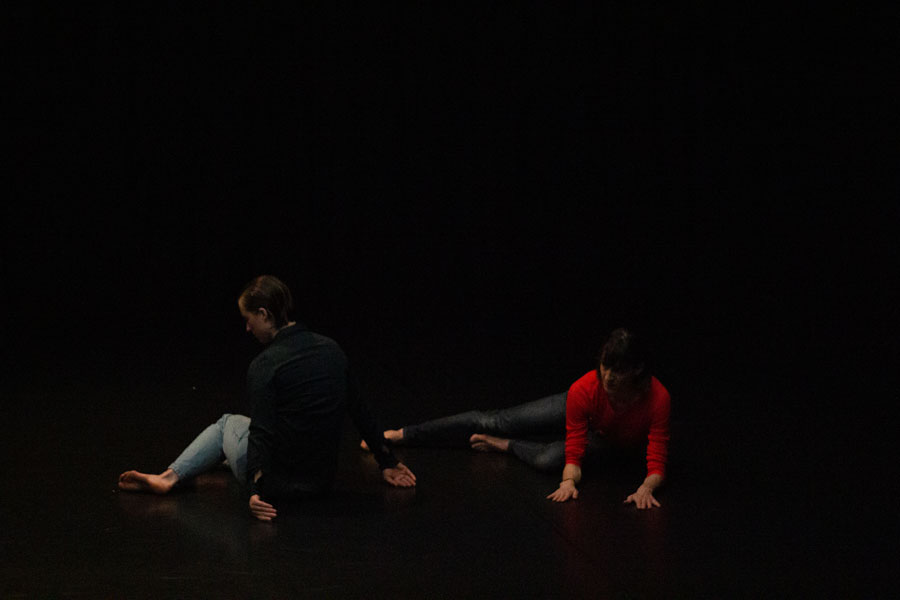 In April`19 werden mikroskopische Körperbewegungen derart aneinandergereiht, dass verschiedene Aufmerksamkeiten und Körperempfindungen geschaffen werden. Das Bewegungsvokabular ähnelt einer Sammlung Schnipsel: kleine abgerissene Bewegungsstücke. Zentrales Element der kompositorischen Arbeit von April`19 sind Lücken, in denen Gedanken entstehen können. Lücken und Bewegungsschnipsel werden durch die Aufmerksamkeit der zwei Tänzerinnen und der Betrachter*innen zusammengehalten.
Inwiefern das Gesicht zum Körper gehört; ob oder ob nicht einer einzelnen Bewegung mittels der Blickrichtung einer Tänzerin Bedeutung zugewiesen werden kann; was die Verführungskraft des Blickes beinhaltet – das sind einige der Fragen, mit denen sich Zina Vaessen in April`19 beschäftigt.
© Zina Vaessen, 2019
In April '19 minute movements of the body follow one another in such a way that different points of focus and bodily sensations are created. The vocabulary of the movements resembles a collection of scraps of paper: small, torn-off bits of movement. Central to the compositional work of "April '19" are the gaps in which thoughts can arise. It is the concentration of the dancers and their audience that holds together the snippets of movement and the gaps in between.
To what extent is the face linked to the rest of the body? Can a single movement be given meaning by a dancer just by how she directs her gaze? What lies in the seductive power of a gaze? These are some of the questions that Zina Vaessen engages with in April '19.